If you teach 1984, George Orwell's nightmarish novel of complete obedience in which Winston Smith's quest for freedom, humanity, truth, and genuine emotion are annihilated in the face of totalitarian opposition, then comb your way through my list of teaching resources for the novel.
It includes recent articles, supplementary books, teaching guides, videos, and biographical and critical essays. Orwell's harrowing novel is the one that my students enjoy reading most.
If you teach it too, I hope you share your favorite resource in the comments section below.
George Orwell's 1984 is Suddenly a Best Seller
"Prof. Stefan Collini, a professor of intellectual history and an expert on Orwell at the University of Cambridge, said that readers see a natural parallel between the book and the way Mr. Trump and his staff have distorted facts."
So Are We Living in 1984?
"Thinking about Edward Snowden on Sunday, it wasn't much of a leap to imagine him and his colleagues working in some version of Oceania's Ministry of Truth, gliding through banal office gigs whose veneer of nine-to-five technocratic normality helped to hide their more sinister reality."
"Not surprisingly, 1984 has found a nervous readership in today's "post-truth" era. It's an era in which misinformation and fake news have proliferated on the web; Russia is flooding the West with propaganda to affect elections and sow doubts about the democratic process; poisonous tensions among ethnic and religious groups are fanned by right-wing demagogues; and reporters scramble to sort out a cascade of lies and falsehoods told by President Trump and his aides — from false accusations that journalists had invented a rift between him and the intelligence community."
"My classroom becomes a totalitarian state every school year toward the end of October. In preparation for teaching 1984 to seniors, I announce the launch of a new program aimed at combating senioritis, a real disease with symptoms that include frequent unexplained absences, indifferent reading, and shoddy work."
Books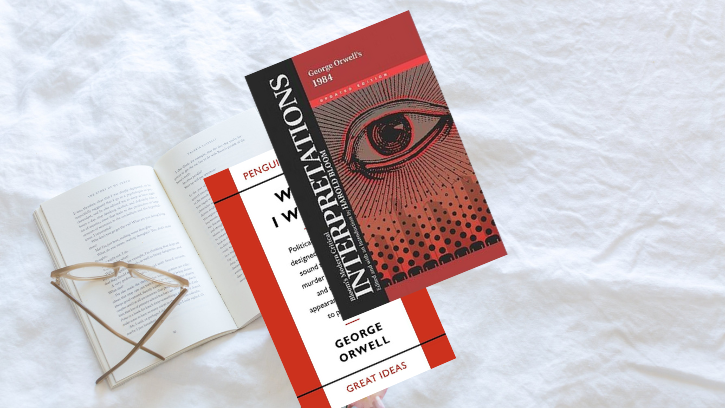 Why I Write (Penguin Great Ideas)
Whether puncturing the lies of politicians, wittily dissecting the English character or telling unpalatable truths about war, Orwell's timeless, uncompromising essays are more relevant, entertaining and essential than ever in today's era of spin.
1984 (Bloom's Modern Critical Interpretations)
A biographical and critical review of George Orwell's 1984 with expert analysis by Harold Bloom.
Videos
1984 Apple Commercial
Thug Notes 1984
SparkNotes 1984 Summary
TED Ed — What Orwellian Really Means
The School of Life — George Orwell
Biographical/ Historical Context/ Critical Essays
Orwell and Me — Margaret Atwood cried her eyes out when she first read Animal Farm at the age of nine. Later, its author became a major influence on her writing. As the centenary of George Orwell's birth approaches, she says he would have plenty to say about the post-9/11 world.
1984 thoughtcrime? Does it matter that George Orwell pinched the plot? — George Orwell's Nineteen Eighty-Four is a classic – but it owes its plot, characters and conclusion to Yevgeny Zamyatin's 1920s novel We.
1984: George Orwell's road to dystopia — A decade of political chaos shaped George Orwell's vision of a totalitarian future, writes David Aaronovitch.